That's right North Carolina is one of the youngest states in the country – and Charlotte is one of the youngest 'kids'!
According to the US Census (remember….you filled out the form right!!) North Carolina's median age is 37.4 and Charlotte is 33.2…a baby!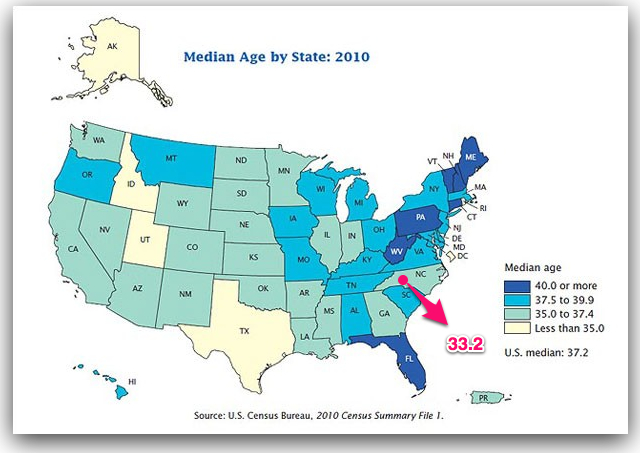 Having lived here over 30 years we have always felt Charlotte was an up and coming city – it has always felt young and vibrant. And yet at the same time we have some amazing retirement communities including the wildly successful Sun City Lakes.
I guess the best way to put it is Charlotte has a great mix – literally something for anybody, any age and yes we're great for babies!
Her are som other fun and interesting facts from the US Census and Charlotte Chamber of Commerce:
Cost of living below the national average
City, County and State AAA bond ratings
Sixth most active airport in the nation 700 airline flights daily
8,850 new jobs for 2011
$14.3 billion in annual retail sales
First: Best place for companies to thrive
First: America\'s most livable communities
First: Top metro for economic growth
First: top state business climate
First: economic strength ranking
Second: largest banking center (controls over $2.3 trillion in assets)
Second: Best place to move
Second: best city for entrepreneurs
Second: Best place to start a small business
Third: Best city for corporate headquarters
Third: Best city for business
Fourth best city for relocating singles
Eighth in number of Fortune 500 headquarters
Sixth largest in-migration of people (relocating to Charlotte)
18th largest city
And how about these national accolades from 2012 (Provided by Charlotte Chamber of Commerce)
#1 50 States Top State Business Climates November 2012 Site Selection Magazine
#5 50 States Top State for Doing Business October 2012 Area Development Special Magazine
#1 50 Cities Most Entrepreneurial August 2012 GlobalTrade Magazine
#3 Best Market to be Looking for a Technology Job July 2012 Simply Hired (of 100)
#4 Top State For Business July 2012 CNBC (of 50 states)
#2 Best Airport Apr 2012 Travel + Leisure (of 22 major airports)
#5 Frequent Flier Favorite Apr 2012 Trip Advisor (of U.S. airports)
#8 Clean Job Announcements, Q1 2010 Apr 2012 e2.org (of 50 states)
#1 Largest Population Increase (%) 2000-2010 Mar 2012 U.S. Census (of 42 urbanized areas of 1M+)
#4 Fastest Growing Job Market 2011 Mar 2012 Urbanophile (of 51 large MSAs)
#5 Most women-owned businesses Mar 2012 Bizjournals.com (of 50 states)
#5 Overall Well-Being Mar 2012 Gallup-Healthways Well-Being Index (of 190 large MSAs)
#1 Top Library for Children (ImaginOn: The Joe and Joan Martin Center) Feb 2012 livability.com (of 500 childrens libraries)
#1 Best Online Business Graduate Program (Gardner-Webb) Jan 2012 U.S. News and World Report (of 160 programs)
If you're thinking about relocating to Charlotte or just curious to see what homes are for sale click on our fantastic home search that covers every House for Sale in the Charlotte MLS: Click here to Search all Charlotte / Mecklenburg County Homes for Sale
photo credit: Lutz-R. Frank via photopin cc