Charlotte is renowned for it's trees! The City of Trees is in a tree planting frenzy with plans to plant 15,000 tress annually.
The Charlotte Observer's South Charlotte News brings us this great article about plans for solidifying Charlotte's position as THE City of Trees!
New trees planted across south Charlotte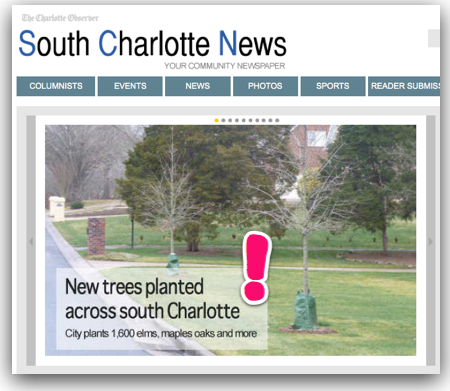 "Older neighborhoods in south Charlotte such as Dilworth, Stonehaven, Beverly Woods, Olde Providence, Hembstead, Ballantyne, Piper Glen and many more are getting trees planted in open air spaces as part of additional money marked in 2011 for tree beautification, says Don McSween, the citys arborist.
1,600 elms, maple, oaks and more are being planted by the citys Landscape Division to increase neighborhood values, replace older trees that have been lost and …ensure its reputation as the City of Trees.
Thats where TreesCharlotte steps in. The citys public/private initiative to plant trees on private land will mean even more new tree plantings throughout this year with approximately 1,500 plantings planned for 2013, said David Cable, director of the city program. The groups goal is to eventually plant 15,000 trees annually using volunteers and private funds.
South Charlotte neighborhoods getting new trees include those in the following zip codes: 28105, 28226, 28207, 28270, 28203, 28209, 28210, 28211 and 28277."
And if you're planting your own trees (now is a great time)….here's a couple interesting links about good trees and bad trees!
Worst Trees For Your Charlotte Yard
11 Trees You Should Never Plant in Your Charlotte Yard
More Trees You Should Never Plant in Your Charlotte Yard
Ten Top Trees for the Small Charlotte Yard