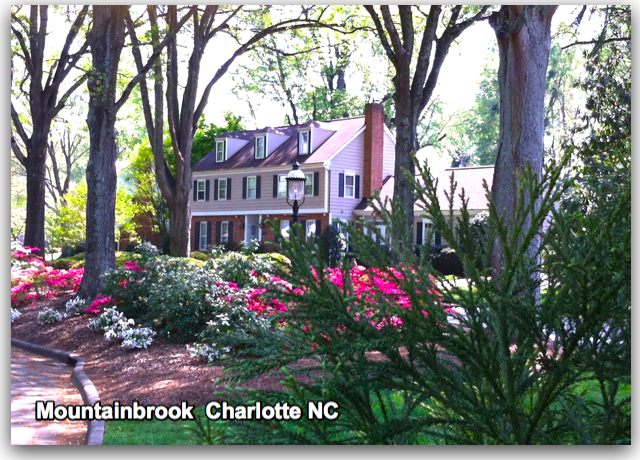 While the Mountainbrook MLS statistics are striking we' not that surprised. Classic Southpark area neighborhoods like Mountainbrook, Barclay Downs, Montibello, Foxcroft and Sharon Woods are super popular…again. In fact we just received a unsolicited letter asking if we'd be interested in selling our Montibello on Sentinel Post Rd. That has happened to Charlotte homeowners since before the housing mess.
Back to Mountainbrook…so what's going on?
Four reasons to SELL:
Inventory (months of supply) of homes for sale in Mountainbrook is down 56% from last summer to a four month supply – lowest since 2008.
Average price per square foot has climbed to $141 from it's low of $118 (7/2011)
Homes are selling for 93.9% of the original asking price – it hasn't been that high since 2008. Many listing are getting multiple offers and selling faster.
Days on market is down 29% to a little over three months (108 days)
Average sales price is up 15% over last summer from $342K to $394K
One reason to BUY:
While the stats above might favor the seller in the short term we think there is something more profound going on. The Mountainbrook neighborhood is getting healthy again. "Close in" Charlotte neighborhoods like Mountainbrook are seeing a resurgence of popularity as home buyers look for value, stability and livability. The traditional architecture, large lots and gorgeous trees don't hurt!
We've always felt that the Southpark area affords home buyers the best of both worlds – convenient access to both the Uptown area and the growing Ballantyne and Union County areas. Big box retailers, malls and highways are close by but out of sight…and mind!
Bottom line….it's always been a good time to buy (or sell) in Mountainbrook….right now it's a win win!
Now that we've got you all revved up the following Mountainbrook links might help: