http://500px.com/photo/4956786
I'm not a "numbers" guy but statistics can be interesting. Rhonda is working with a couple of buyers interested in the South Charlotte Ardrey neighborhood*. Ardrey has always been a personal favorite of Rhonda and me – happy Charleston style homes with front porches packed with friendly neighbors and kids – one day I expect we'll end up there! Oh and the wonderful Ardrey Kell High School and Community House Middle School are literally around the corner….Ballantyne and Blakeney shopping, restaurants and farmer's markets too!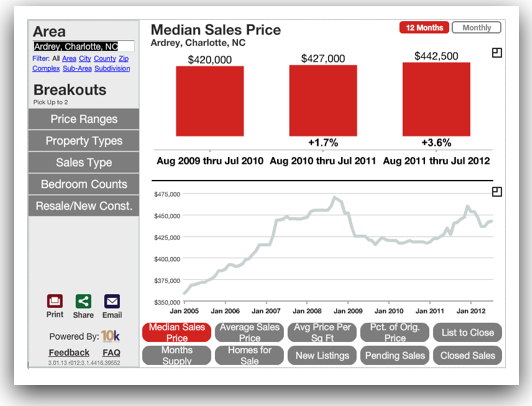 I looked at the real estate statistics and found the Ardrey neighborhood to be in almost perfect balance.
Median home sales price is up 3.6% over 2011 to $442,500 (and pretty darned close to neighborhood high of $470,000 9/08)
Average price per square foot is $136 well above $128 in 2009
House listing prices are in balance – selling for an average of 94.8% of original list price (means we've got some sensible homeowners)
Homes in Ardrey are selling briskly 155 days on average compared with 156 in 2009
Home for sale inventory is at 6.5 months with about 15 homes for sale on average – healthy for this real estate market
If you're thinking of selling a great place to start is with our really cool easy, accurate even fun way to get an idea of what your Ardrey home is worth Ardrey Home Value eValuator try it now! Of course if you're in the buying mode you can search all Ardrey homes for sale right here http://www.southofsouthpark.com/southpark-homes-for-sale-in-charlotte/ardrey-neighborhood-homes-for-sale-now-in-charlotte/
Right now is a great time to BUY and to SELL in Ardrey. The homes are gorgeous, the location is perfect and the neighborhood is in healthy balance. Honestly theres never a bad time to buy (and live) in this part of South Charlotte and Ardrey is one of Charlottes most welcoming neighborhoods!
Please contact Rhonda Gibbons for no pressure, helpful answers to your questions about living in Charlotte or Ardrey 704.651.6551 or email Rhonda Gibbons