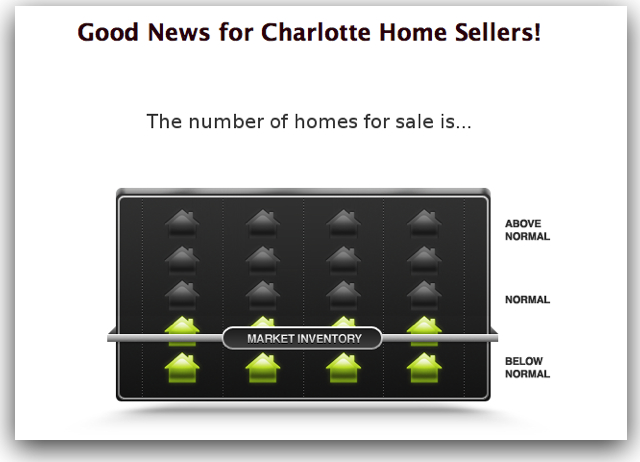 Don't ya just love whiz bang stuff! We've got these nifty new graphics (they move and stuff – see below & refresh the page) to show you how the Charlotte real estate market is doing…..and right now things are really, really good!
Finally some GOOD NEWS for South Charlotte Home Sellers! We're seeing homes sell faster and many are getting multiple offers. The number of homes for sale in South Charlotte area 4/5 is down 26% from a year ago in 2011. Homes for sale inventory is down 35% to a 8 months supply from 13 months last summer.
This means…
Home Buyers have less to choose from…
Home Sellers have less competition…
And yet everybody wins – but you say Mike how can that be – what's good for sellers cant be good for buyers? …ah but you forget the golden rule of Charlotte real estate…It's Always a good time to buy the right house in Charlotte!
If you'd like more information on the Charlotte residential real estate market or if you just have a question – give Rhonda a call anytime 704.651.6551 And if your curious what your South Charlotte home is worth try our new cutting edge and SIMPLE (only 3 clicks) eValuator tool – it's kind of fun and gives you one of the best ballpark home value estimates on the web! http://www.southofsouthpark.com/what-is-my-home-worth/