Third in a series of six things you should do if you want to buy or sell a home in 2012!
#3 Show it, stow it or shed it: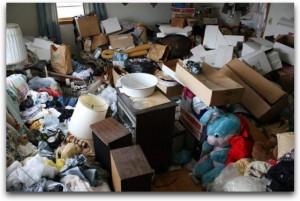 Everybody's got stuff (maybe not this kind of stuff >>) Thing is nobody wants to see your stuff…no matter how great your stuff is…it's not as good as their stuff and what they really want is to see what their stuff is gonna look like when you move your stuff out….
Want to know how crazy we are about our stuff…Daniel Pink reports
"The United States spends more on trash bags than ninety other countries spend on everything. In other words, the receptacles of our waste cost more than all the goods
consumed by nearly half of the world's nations."
That's right Americans spend more on storing our stuff than most of the word spends on stuff in the first place! Stuff is the Achilles heal of buying or selling a home and here's why…
Buying a Home: If you're planning to buy a home this is a great time to get rid of stuff…out with the old, in with the new (forget part two). Remember when you're worldly possessions would fit in your car and what didn't fit you tossed. See you can do this you just have to channel your college/single self. Packing sucks so take this opportunity to purge. There are some incredible internet tools to help (see below) and you might even YOU WILL make some money. More than that your move will be simpler and you'll grab some much needed piece of mind!
Selling a Home: Breathe, breathe, breathe….You're about to enter the "pull your hair out" zone – God help you if you don't have at least one left brained (ie. organized) family member. In today's BUYERS market homebuyers expect perfection – basically they want to buy Martha Stewart's house. Sure they've got teenagers and cats and messy garages and porcelain turtle collections and Bieber posters taped to their daughter's ceiling and overflowing closets but they want to believe you don't! Get ready because you're going to have to de-clutter and then drumroll…you, your kids and yes your hubby are going to have to keep your home looking like Better Homes & Garden for weeks, maybe months and always at a moments notice. I know YIKES – that's why a major de cluttering will make all the difference. De-cluttering kills two three birds 1) less stuff to pack 2) less stuff to keep neat and drumroll 3) less stuff to UNPACK!
So what do you do with all this stuff? Here are some tips
Show it: De-clutter and keep it simple – think Pottery Barn: personal photo walls, religious shrines, junk rooms and collections need to go. A few words on staging from Sandy Phillips, First Impression Staging 704.277.5141
"Staging your home to sell is like detailing your car. First Impressions are the key, starting at the curb and throughout the home. Staging can help your home look inviting and fresh, a big advantage in this BUYERS market. I like to use what a client already has, helping them figure out what to show and what to pack. In todays market its all about helping homebuyers feel like your house could be their home. Professionally staging your home can make all the difference."

Stow It, Shed It:
77 Tips for selling on Ebay
Craigslist Selling Tips
Sites and tips for selling online
Great charitable organizations in Charlotte that would love your donation:
Goodwill Industries of the Southern Piedmont
Salvation Army
National Kidney Foundation of North Carolina
Crisis Assistance Ministry
Dress for Success
Catholic Social Services
Habitat for Humanity ReStore
Charlotte Rescue Mission

In case you missed the first two things in the series…
#2 Qualify it: Nobody expects the Spanish Inquisition…
#1 Don't sweat it: A little bird showed me*